2020 Edition
PMP Practice Test
Try this free Project Management Professional practice exam to see the type of questions that will be on an actual PMP exam. Your results will be scored automatically and will display your strengths and weaknesses.

For a good review of the subject matter and to practice your test taking skills, use Tests.com's PMP Practice Exam Kit with 450 questions and fully explained answers, written by PMP experts Michael Broadway and Donna Kurtz. Tests.com's PMP practice test is based on the 6th edition PMBOK Guide. It includes coverage of network diagrams.

The actual PMP exam is comprised of 200 multiple-choice questions. Included are questions from the nine Knowledge Areas in the PMBOK Guide: • Integration Management • Scope Management • Time Management • Cost Management • Quality Management • Resource Management • Communications Management • Risk Management • Procurement Management. In addition to the Knowledge Areas, the exam also offers questions taken from the five Key Process Groups: • Initiating • Planning • Executing • Monitoring and Controlling • Closing.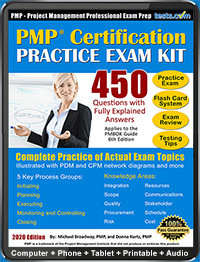 The Project Management Professional exam is taken by individuals seeking credentialing in the area of project management. The PMP credential exam consists of 200 multiple-choice questions that focus on six subject areas. Learn more about this exam with The Guide to the Project Management Professional Exam.