UPDATED 2020
Common Core Standards Practice Test
Try these free Common Core Standards

p

ractice questions and answers with instant scoring.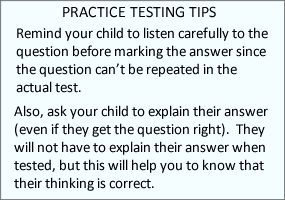 This Free Practice Test was written by the PreK - 8th grade testing experts at TestingMom.com
with access to 100,000 Practice Questions including Common Core Standards questions. Get Free Practice Questions to get started.
Instant Scoring in this practice test is broken down by grade level so you have a choice of doing all the questions or just the grade level that is applicable to your child.
While many parents have expressed concerns about these tougher standards, educators who developed the Standards tell us that they are modeled on teaching strategies in countries that regularly outperform U.S. students on all international academic competitions.