2023 Edition
PRAXIS Core Academic Skills for Educators Practice Test

Take this free practice test to see how prepared you are for the PRAXIS Core Exam and the PRAXIS I teacher certification test. Most states use the PRAXIS Series of Exams to license teachers to teach in their classrooms. The PRAXIS Core Academic Skills for Educators test and the PRAXIS I evaluate three subject areas: Math, Reading and Writing.

For 800 Praxis practice questions including explanations to the answers check out the Practice Test Kit for the Praxis Core Exam.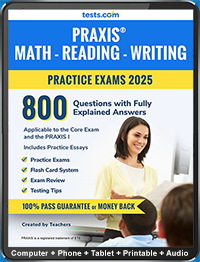 Quality starts with who wrote the material.
Our practice exam writer
s
:
English
Jessica Carlson, MA

Jill Mountain, MA

Math
Adel Arshaghi, MS

Reading
Michael Atkins, Ph.D.

Mark Mellett