Cognitive Ability Tests
Find resources to prepare for cognitive ability tests, with online aptitude tests, cognitive assessment test information and more. Cognitive ability tests are used in grades K-12 to evaluate student progress and to determine if students qualify for special programs.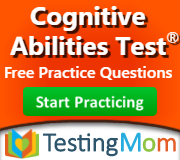 Many schools at the K-12 level use cognitive ability tests to place children at the appropriate grade level and for other school programs. Some of the tests available are the CogAT, WISC, WPPSI, NNAT and the ITBS. Most of these tests measure a student's aptitude in a variety of categories, by analyzing their quantitative, verbal and reasoning skills. To get an general overview of cognitive ability tests, see our Cognitive Ability Test Guide.