2022 Edition
Free ATI TEAS 6 Practice Test
Take this free ATI TEAS 6 practice test with all answers fully explained and instant scoring. The TEAS VI is used as an admission exam for nursing schools. It covers science, math, English and reading comprehension.

To Prepare for the Actual Exam: ATI TEAS 6 with 1,250 questions; Online Flash Cards and Testing Tips. Our material was written by a team of 8 scholars including a Ph.D and 6 masters degreed instructors.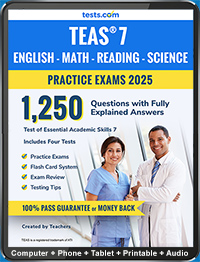 Quality starts with who wrote the material.
Our practice exam writer
s
:
Science
Anne Austin

Gioia Degenaars, MS

Math
Adel Arshaghi, MS

Lydia Wieberg

English
Jessica Carlson, MA

Jill Mountain, MA

Reading
Michael Atkins, Ph.D

Mark Mellett
Our ATI TEAS 6 practice exam has a simulation mode allowing you to simulate the actual exam in format, number of questions and time (209 minutes):
Science (53 questions)
Math (36 questions)
English (28 questions)
Reading (53 questions)